Scroll to see all webinars and live workshops…
FREE WEBINAR: Lean How to Start a Successful Lifestyle and Weight Management Coaching Business
Learn how to quickly increase your job and career opportunities.
Learn how to work with clients online or in-person.
Learn to help your clients achieve their weight loss or weight management goals by using the latest proven strategies.
Learn about stress and its relationship to weight management.
Learn how you can create a successful coaching career.

 
NOTE: Once you have access to the webinar, you can watch it later if you like.
---
FREE WEBINAR: Lean How to Start a Successful Nutrition Career
Learn proven techniques for helping your clients to increase energy, improve their health and decrease dependence on medications
Increase your professional credibility and earning potential: Start a lucrative fitness and nutrition business from your home, or expand your existing fitness career in a health club , fitness center or gym. You can also coach people online.
Learn about specific nutrition populations including: vegetarians, pregnant and menopausal women, young and old, diabetics, and how to advise them on healthy living strategies.
NOTE: Once you have access to the webinar, you can watch it later if you like.
---
FREE WEBINAR: How to Become a Successful MMA Fitness & Conditioning Coach
Learn how people just like you are enjoying this fun, rewarding and exciting career
See the incredible success stories of the Certified MMA Conditioning Coaches including work with the UFC, Bellator, and other world-class martial arts organizations
Discover how you can become a top-rated martial arts fitness and conditioning expert with the most elite training offered in the world
Learn how to use these new skills to advance your current career in ways you've never before imagined
NOTE: Once you have access to the webinar, you can watch it later if you like.
---
FREE WEBINAR: How to Start Your Own Nutrition Business in 15 Minutes With Almost No Money
Learn how people just like you are starting their own nutrition business from home and online
Learn why sending you clients to the local nutrition store is the kiss of death for your business
Discover how you can quickly increase your weekly income and improve your clients' results at the same time
Learn how to use this proven and simple system to advance your career
Find out how this system works for personal trainers, gyms owners, martial arts instructors nutrition coaches, wellness coaches and other health entrepreneurs and small business owners
NOTE: Once you have access to the webinar, you can watch it later if you like.

---
LIVE Personal Fitness Trainer Workshops and Certification Exam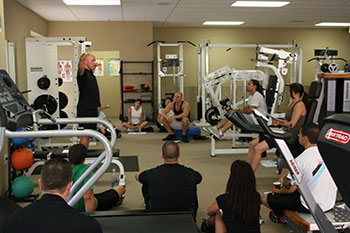 Personal Trainer Certification Workshops are offered by Training Made Fun.
Training Made Fun personal trainer certification workshops are 2-day intensive trainings. There will be an initial focus on lecture to ensure sufficient knowledge levels in the areas of functional anatomy, exercise physiology, kinesiology, biomechanics, and program design. The second half of the weekend you will experience hands-on instruction focused on functional and traditional exercise applications, usage of various equipment types and tools, and advisement on how to progress or regress each exercise.
Questions about Live Workshops?
Please contact TrainingMadeFun.net directly for information about their workshop schedule and pricing.
NOTE:  NESTA offers an online Personal Fitness Trainer Certification Course for those seeking to study at their own pace in the comfort of their own home. Please click here for our Online Personal Fitness Trainer Certification.